The HR team and managers put a lot of work into their onboarding program to make sure that employees are integrated and properly settled in their new roles. GOOD! But shouldn't they pay the same attention to offboarding?
Where onboarding marks the beginning of the employee journey, offboarding involves separating an employee from the company. Offboarding is designed to ensure a smooth transition and encourage the departing employee to share knowledge. The way employees experience their departure at a company can have a significant impact on the employer brand.
Creating a new offboarding program for your company can look like a lot of work, but with the right tools, it's NOT! That is why we made a list of what kind of tools you need to use to offboard your employees even better and help make them your new brand ambassadors!
1. Get an Offboarding checklist tool
An employee offboarding checklist tool such as Jira or Basecamp helps the departing employee to get all the necessary tasks done before his or her departure. Make sure the tool gives the managers and HR team the possibility to glance at which activities have been finished and which are still outstanding.
The checklist may include items like:
Ask HR for the outstanding holidays
Make sure all the relevant knowledge and tasks are transferred to your colleagues or managers
Make an appointment with HR or your manager to have an exit interview
Ensure all critical records are labeled and organized for your successor
Remove all personal items from the office, employee lockers, etc.
Return keys, keycards, company credit cards, parking permits, etc.
If applicable, complete a conflict of interest statement
Gather company-issued mobile devices to turn back in
Provide forwarding address so mail can be forwarded if needed
We made a full offboarding checklist for you to use to create the offboarding experience of your employees.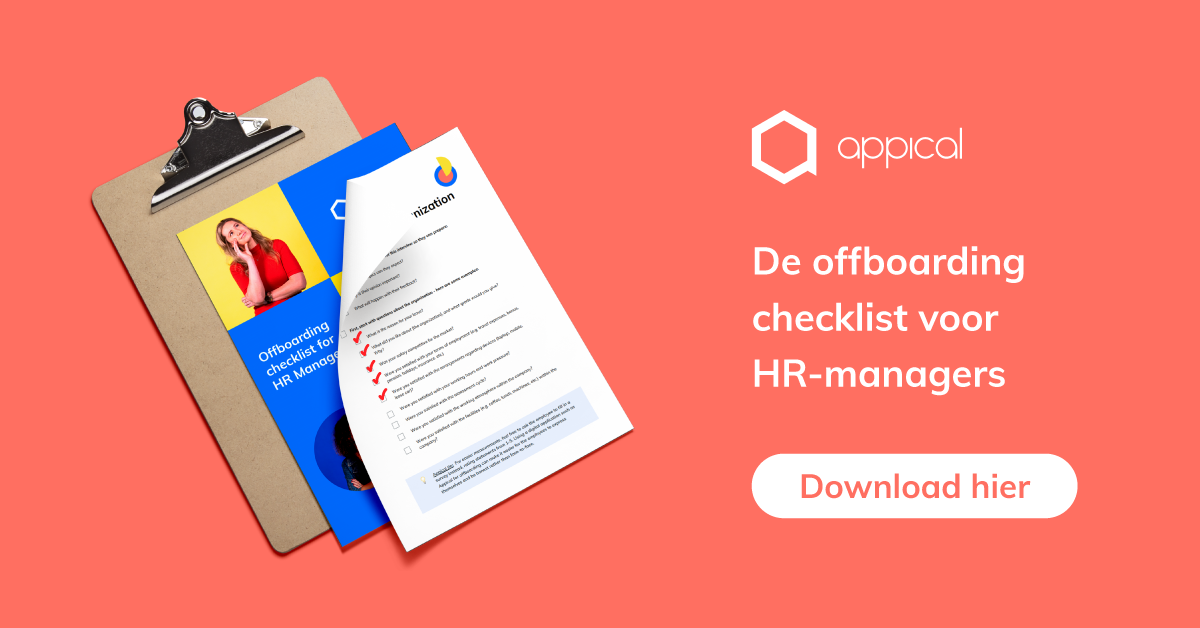 2. A review documents tooling
Next to checking all the boxes, it is important to discuss any employment agreements like non-competes and non-disclosures. Please review the requirements of this agreement with the employee before he or she leaves. Also, discuss any sanctions that will apply if the contract is violated. Ensure that the employee that is leaving is provided with all the copies.
Other documents may need to be reviewed, depending on the terms of the employee departure. It's important that all of this is easily accessible in the cloud. We suggest having a look at our partner Docusign. They have the DocuSign Agreement Cloud tool for Human Resources that connects, automates, and accelerates employee agreement processes so that your time is spent on people, not paper.
3. Survey tooling
Data should be collected from each employee that is leaving the company. The best way to collect this data is through offboarding survey tooling such as Google Forms or Typeform. You can make sure that these surveys are filled in anonymously, so employees are much more inclined to share valuable information and give actionable observations! This can help you figure out why employees are exiting your company and adjust this to prevent others from leaving. Vital to the organization is also understanding how competitive they are with other companies- pay packages, vacation time, etc. It's also helpful to know who is poaching your employee talent.
Common offboarding survey questions you can ask in this tool to gain data:
Why and when did you start looking for another job?
What does the new Job offer that influenced your decision to leave the company?
What could we have done better?
What could we have done to keep you in the company?
What things could your manager have done better?
On a scale of 1 to 10, how would you rate the company culture?
On a scale of 1 to 10, how intensive was your workload on an average day?
Were you given enough resources to do your job?
Would you ever consider returning to this company?
Was responsibility well divided among your coworkers?
What was the best and worst part of your job?
Would you recommend our company to a friend?
4. One streamlined process tool everywhere any time
To ease the challenges of offboarding an employee, many managers are jumping on the trend of using one offboarding journey tool.
You can automate & streamline your offboarding process with the Appical platform and save time filling out, filing, and finding lost paperwork. Let your departing employee unlock content when your employee needs it, reducing information overload and optimizing adoption. Appical's platform offers an all in one solution with a built-in checklist, feedback survey, secure documents sharing, and much more!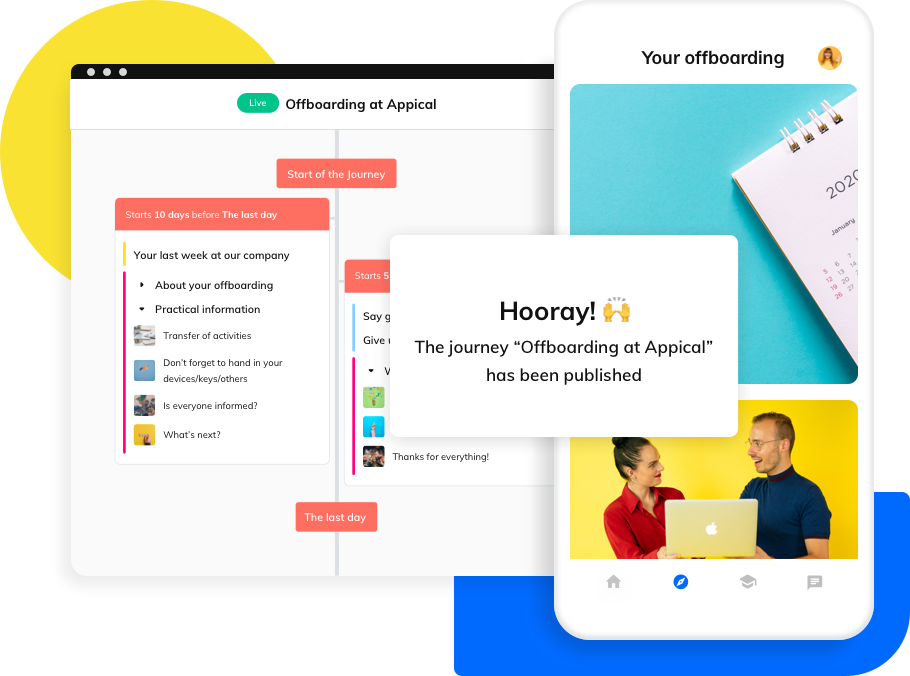 What's more, you can request a free live demo from us or view more about our offboarding tool here. Offboarding is too important to trust paper forms and spreadsheets, and now you can automate an employee offboarding process to fit your needs perfectly.