Onboarding is the process of integrating and introducing a new employee into an organization. Considering that people are the key to success of a company, onboarding your employees right is essential as it leads to higher employee satisfaction and faster productivity! As Simon Sinek has said, "Customers will never love a company, until employees love it first".


Why make it personal?
One of the most important aspects of an onboarding program is making it personal. Personalized onboarding drives retention, productivity, and ensures your new employees feel connected to the company. For example, at Wortell, personal onboarding has led to a 14% smaller departure rate and an 80% to 98% increase in candidates who sign the contract when offered one.
Adding a personal touch to onboarding is especially difficult in these uncertain times, with many employees working from home - but it is not impossible. Think about it from two angles: to provide your employees with a personal onboarding, you need to add a personal touch to the onboarding journey, as well as allow the new hires to express themselves both professionally and personally. Wondering how you can do that at your organization? Then keep reading - we compiled a list with seven ways to make your onboarding more personal!


1. Start with a personalized welcome package

Start your new hire's journey at your company on the right foot by giving them a welcome package! But what should it include to make it more personal? Firstly, add a handwritten note from the colleagues. You can make the note personal by finding out more about the new employee beforehand, for example via an onboarding app.
Secondly, include any merchandise - a notebook, pen, a tote bag - to make them feel like a part of the company right away. Welcome packages are especially important in these remote times, when making a connection is difficult - if your office is closed, make sure to send the package to the new employee's home address.
Another great way to provide a personal touch in (remote) onboarding is a personalized welcome video from the team. This way, not only does the new employee feel welcome, but they also get to see and find out more about their colleagues!


2. Introduce their (direct) colleagues

To make a connection between the company and the new hire, introduce their new colleagues! A great way to do that is by providing the new hire with personal stories about their colleagues even before they start working. Now that most of us are working remotely, digital platforms such as Appical can come in very handy.
For example, one of our clients Euler Hermes introduces their employees to the company strategy, culture, values three weeks before the new hire starts working. But that's not all - their preboarding also includes testimonials and videos from the new colleagues introducing themselves to the new hire.
At Appical, we also ask the new hires what their favorite lunch is, what their hobbies are and what team event they would like to participate in, which makes for great conversation starters with new colleagues!
Euler Hermes successfully developed a harmonized onboarding strategy across dispersed regions. Check out how Euler Hermes' onboarding program looks like!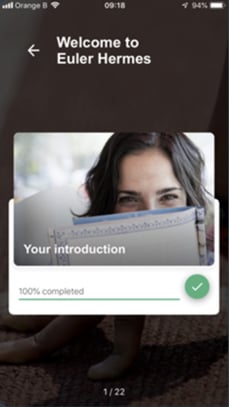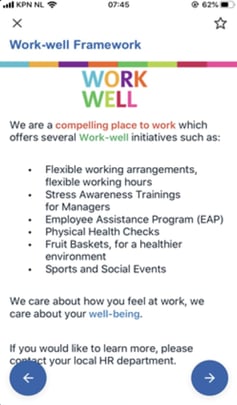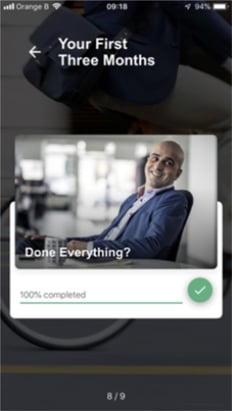 3. Get them on board with the company culture

It goes without saying that getting to know the company culture is a very important part of an employee's integration. And there are many ways to showcase it! Firstly, make sure your new hire is aware of the atmosphere at work, as well as the goals and values of the company, so that everyone is on the same page. You can do that in a meeting, via a digital app, or encouraging your new hire to discuss that with their new colleagues!
Moreover, it is important for you as a company to reflect your culture in your office. For example, Google's Amsterdam headquarters were inspired by the history of Google, using graffiti and cardboard box lights to reflect Google's humble beginnings. The office also includes Stroopwafel ceiling panels, Gingerbread wall covering and the Delft Blue graphics which reflect a personalized, creative and innovative company culture.
However, especially now that many people are working from home, a great way to show your company culture remotely is by using a digital platform for your onboarding. For example, the Appical onboarding app has features such as a "glossary" and a "people finder", which make communication easier by introducing the new-joiner to the company jargon and making it easier to find and message their new colleagues.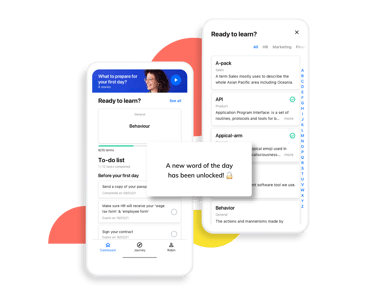 4. Create different onboarding programs for each location, team or department

On their first days, new hires are usually presented with a lot of new information that they need to process. To make your new employees feel like you are addressing them personally, it is best to roll out different onboarding programs for different locations, teams or departments.
This way, your new hires get information that is the most relevant to their role within the organization. Especially in a company with a large number of employees and offices in different countries, each location or department will most likely have different rules, do's and don'ts and ways of working.
While creating content for different objectives or multiple audiences can prove to be quite a bit of work, giving only information to your new hires that they really need - how their first day will go, who their direct colleagues are, and what their role within the company will be - ensures the new employee is not overwhelmed but knows enough to feel prepared.
When creating different journeys, Appical can save you a lot of time - there is only one place where all onboarding journeys are stored and can be maintained by different administrators. Besides, the journey can be personalised by the use of "snippets", automatically assigned buddies and onboarding managers.


5. Let the new hire express themselves by setting goals

Every new hire differs, among many other things, based on their personality, qualifications, abilities and experience. Therefore, it is essential to explain their role within the company and set their goals and expectations individually.
This way, not only does the new hire know what to strive for, but can also be encouraged to express themselves. Break the goals for your new hire into categories like learning, performance, and personal goals:
Learning goals: To set these, think about what knowledge and skills your new hire needs to become successful? What kind of behavior is expected from them? How can he/she best absorb and acquire that information and those abilities?
Performance goals: These are concrete things your new hires need to accomplish or complete as part of their new role. Determine what your new hire needs to achieve in X days?
Personal goals: These goals are about your new hire getting to know their colleagues and getting comfortable with the company or team. Who are the key people your new hire needs and wants to build relationships with?

Find out more about setting goals for your new hire and other steps in the onboarding journey by following our

30-60-90 day onboarding plan

(free template included!).


6. Plan coffee dates

Socializing is a vital part of joining a new company. The best way for your new employee to get to know their colleagues is scheduling coffee dates! Make sure your new employee plans coffee dates not only with their direct colleagues, but also people from other teams or departments. This depends on the number of employees and departments at your company - for example, newcomers of Appical are advised to schedule coffee dates with 1 or 2 people from each department (or more)!
To make conversations flow easier, you can use a conversation starter deck - we made one like that at Appical. Just to give you an idea, our deck includes questions such as "Was there a time you fundamentally changed your mind about something important?", "What three words describe the atmosphere here at work lately?" and many more! Such discussions have a huge potential to not only help make a connection between the new hire and their colleagues, but also find out more about the company.


7. Buddy up!

Last but not least, your new employee needs a clear point of contact to feel supported. Who should they talk to when they have questions? An onboarding buddy system is a great way to add a personal touch to their onboarding process.
Joining a new company and starting a new job is extremely nerve-wracking, which is why a buddy is vital to make the transition easier. It is a win-win situation - while the new hire gains information on the company, the work ethics, environment and therefore gets a confidence boost, the buddy can learn leadership skills!
The main tasks of the buddy include introducing the new employee to the team, providing him with an office tour (if applicable), explaining when the lunch break is and the best places to go to… among many others!


To make the job of a buddy easier, we made an onboarding buddy toolbox, which includes relevant information on how to be a good buddy, with conversation starters and a checklist among them!


Make your company feel like home
Adding a personal touch to your onboarding program will help to build trust between the company and the new employee. These 7 ways to make your onboarding personal should help with creating a sense of belonging for your new hires, making your company feel like home. Show your new employees that they made the right choice by choosing you!