The focus on talent retention
In our previous blog, the employee journey was the focal point and we told you about how a good employee journey contributes to employer branding. In the four stages of the onboarding journey (pre-hiring, pre-boarding, onboarding, and offboarding), the focus is on talent retention. Some degree of staff turnover in your company is healthy, but you need to be able to determine why employees leave. There are many examples of companies that set aside a huge budget for the recruitment of new talent, but don't pay the much-needed attention to the employees who have been around for a while. If there's one thing you shouldn't forget, it's your current employees who dedicate themselves to your company and have the ability to make or break it.

1. Tight labour market
A tight labour market makes it more difficult for recruiters to find and 'seduce' job candidates. It's OK not to hire everyone or be able to hire everyone. A selection at the gates, such as website statements or a cultural fit test, can prevent mutual disappointment. We believe that if the connection isn't there, it's not going to develop and that it's a shame to go your separate ways after just a few months.
Don't forget to focus on the employees you already have! Why did they choose to come work for your organisation to begin with? What makes them stick around and why would or wouldn't they recommend you as an employer? When you have this kind of information, you can determine the push and pull factors as we know them from economics. An internal social referral programme can help you understand your own employees and offer them the content they find interesting to share with their network.
Make sure that you work at cross-branding in this tight labour market; not necessarily from the inside out, but also not necessarily from the outside in. Instead, involve your employees and strike the right balance together.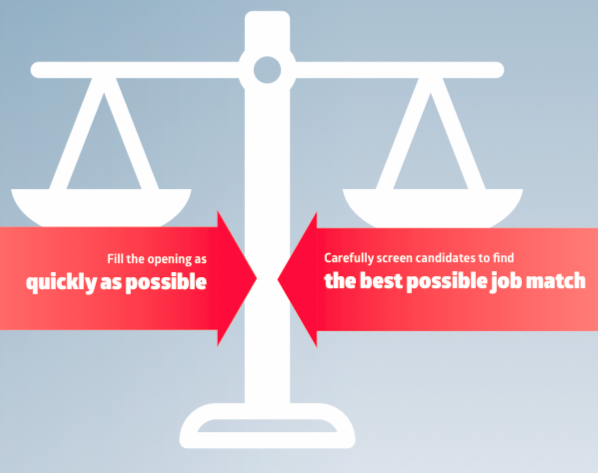 2. Long-term recruitment goals
Staff turnover? Yes, every company has to deal with it, but there are big differences in scale. If you don't focus on talent retention, the staff turnover within your company is often higher and the recruitment personnel have to rush their search for new employees, with higher recruitment costs as a result. If the company's capacity is low, the job profile is so specific that few people satisfy it, and new employees have to be hired quickly, help is required from recruitment agencies. We probably don't have to tell you the average fee for recruiting certain target groups.
Discuss the strategy for the long term; don't just pay attention to recruitment goals, but also address talent retention goals.' When we talk about clients, don't we also look at new business and churn rate?
Former employees may well work for your company again in the future, whether as an employee again, as a self-employed person, or perhaps you will encounter them in a whole different setting employed by one of your clients. This is why it's important to see departing employees as ambassadors and to ensure the preservation of knowledge and feedback about your company by working with them again. You can read more about this in the blog 6 reasons why offboarding is important.

3. Modernising the onboarding experience
Make the first day unforgettable! Starting a new job is always exciting. Feeling at home from the first moment onwards is very important to an employee. This is not only true for permanent employees, but also for temps, volunteers, and students on work placements. If you'd like to know more about this, read our blog Onboarding different types of employees.
Those who look at online reviews of employers will see both positive and negative experiences. It's striking how many of those negative experiences have to do with a bad onboarding experience, no proper meeting with the manager, and no agreed growth path. Think about how your onboarding process currently looks. For instance, you could ask a newly-hired employee what additional things they would have liked to have seen during their first day, their first week, or even their first month(s) of employment at your company. We're convinced that this will provide you with plenty of valuable feedback.
What was your worst onboarding experience?