#1 Onboarding
Onboarding is all about to make sure new colleagues are involved. The phase runs from the first working day until the moment that the new employee has been fully onboarded
You want colleagues to become productive faster, provide insight into their work environment, involve them, ask for feedback and give them the most wonderful experience ever. It's possible now! How to onboard large numbers of employees, reducing turnover and onboard both permanent and flexible staff working through an app? Earlier on we wrote a blog with 5 tips for onboarding of employees in healthcare.
It's no longer just about sending information during the introduction day of the new employee, but about the dialogue!
Why paying attention to the onboarding process?
An innovative corporate culture is important for employee satisfaction

Employees were up to 83% more productive due to good onboarding

Putting the client central remains a hot topic. The employee has to be central too now!

Generation Z (millennials) enters the labor market

Decentralized control, but uniformity in onboarding

More and more healthcare organizations are taking HR solutions more seriously and using this as an efficiency boost for higher engagement
Examples in healthcare
'It's nice that we have 1 platform where the new employees can find everything back. Appical as a company is energetic, low-threshold and continuously working on innovation. That makes me enthusiastic.' - Annelot Adolfsen, Educational expert at Medisch Spectrum Twente.
'New colleagues regularly start at different locations. The training of new colleagues takes a lot of time, which we prefer to spend on caring for our clients. For me as a care manager, it's a advantages that I can provide feedback through the app.' - Sabine Piesens, Healthcare Manager at Ipse de Bruggen.
#2 Employer Branding
Employer branding is obtaining and retaining a distinctive preference position as an employer in the minds of (potential) employees with the aim of attracting and retaining the right colleagues.
Hospitals are onboarding an average between 300 and 1000 of new employees per year. These numbers differ enormously among healthcare institutions. The phase before, during and after the training period has everything to do with employer branding. The recruiting and engaging of employees in the pre-boarding phase (for the first working day) is a real necessity in the current labor market. How to digitalize too! How great would it be if your potential employees could take a look in the kitchen from the onboarding program before their first working day? Then you both know immediately whether it's a correct match or not. In addition, we ensure cost reduction in the recruitment phase and quicker hands at the patient's bed!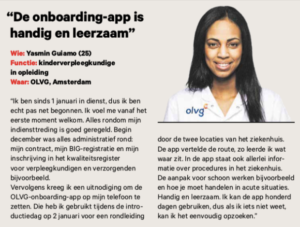 Ambassadors for your organization
And what do you do with employees who work (only) for 1.5 to 2 days? The temporary employee? The house mother? The pensioner? The healthcare student? They are invaluable too! Pay as much attention to this target group, because they are an ambassador for your organization too!
Ask yourself the following 7 questions to find out if your onboarding program is successful today and follow the footsteps of organizations such as, LUMC, MST, Ipse de Bruggen en Vivent.
In this sector, where decentralized work is the status quo, onboarding new employees as quickly as possible is indispensable. Request a demo.