The next milestone
Launching the new web player means a lot for the user experience of our users and the technical improvements in the performance of our platform. Last year we launched the new Editor and Natives Mobile Apps for Android and iOS. The new web player comes last, but for sure not least!
User experience
From now on, users will have the same experience on desktop as on mobile, one slick uninterrupted journey! The navigation and resizing of the platform have improved as well, in order to give customers and end users the high-quality experience they deserve. It's highly important to us keep the user experience in mind when we talk about the employee experience.
'Dashboard' before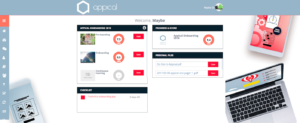 'Dashboard' after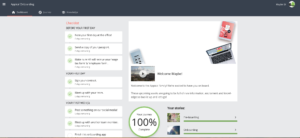 Technical improvements
With this new player, the technical performance of the app improved by more than 50%.
Now, loading time is much faster and the employee journey got a boost of fun with those new animations that we added. Two other things that I would like to highlight are the new dashboard and favorite pages.
The latest mobile app update introduced a new design for the quiz pages (Assign, Ranking, Order Image, Order Video). This means you will no longer have to create separate interaction pages for the mobile version! Hurray! Following, the new dashboard was redesigned as well, and is now more coherent, with the aim to give the user a clear overview of their progress immediately. We also introduced 'favorite pages'. Adding the star-shaped button on the corner of every page, allows users to click on it and add the page to their own favorite library, which is located in their profile.
The road to it
With time, we will guide all customer and help them to switch to the new web player.
To make sure everyone will be using the much more interactive and beautifully designed version, we added the 'New Player' button! Trust me, if you're used to it, you will never go back?
As Product Owner I have prioritized the development of features, we set a deadline and we had to manage the design, development and support teams to work on this together.
Before launching the new web player we did extensive research with our customers and their employees and also within our own company.
Because of the positive feedback we've been receiving since we launched the Native Apps for mobile last Autumn, we wanted to follow the same style for the web player as well.
We had two months of active development, which was full of learning and having fun while we were crafting this amazing experience for our users. Every week the product team was testing it and working hard to get feedback and improve.
Following, we did an 'internal launch' within our development team, shared a BETA version with several customers and organized testing sessions with colleagues from different teams (sales, customer onboarding, development, and support). After all this we are finally ready to go live and we hope you enjoy it ?
Sneak peek
'Chapters' Before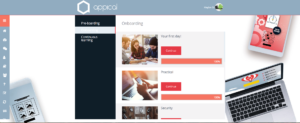 'Chapters' After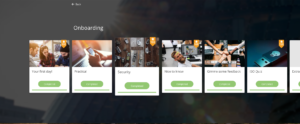 Would you like to see more sneak peeks or want to know more about our app? Check out the blogs, product video or request a demo.