New branding
Once in a while, it's time to get new look. Why? Because just like the world that is changing, our product is constantly innovating and we would like to share that with you. Last month we launched our new web player. We can tell you all about it but you can see for yourselves at www.appical.net and let us know what you think of the new Appical website!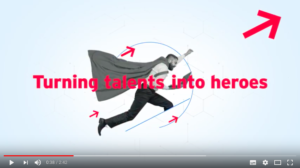 Vertical approach
We were being asked more and more: can you show us an example of a similar company in the same industry? How do they deploy the Appical platform? what are their experiences and fittingly, what would you advise us? We listened to our customers feedback and mapped that out! Anyone visiting the website can immediately opt for the vertical matching their own line of work and find at least 5 reasons to deploy the platform, several clients working the field, video case studies and the top 3 relevant features in the respective field, be it logistics, retail or healthcare, for example.
Case studies and many new blogs
In recent years we have grown considerably and we were able to add very nice brands to our customer base. A number of these customers have been with us for a while and we have illustrated the customer journey, the choice for online boarding and their experiences. You can also find the 'employee' side of things and a number of users' statements. 2018 is the year of Employer Branding, Onboarding & Employee Experience. View the latest blogs right here. Find anything missing? Want to talk about some of the topics? Let us know!
ISO certification
This summer we had double reasons to celebrate! .Our new website went live and we received our ISO certification. We would like to tell you more about the impact, the journey to it and how we as an organization go to the next level with it. Read the blog here: with ISO 27001 Appical is able to professionalise further!
Want to know more about our product? Or leave us a message? We really like it when you do :)