New Feature #1 - New AppicalNow Editor
Unlike many Hollywood stars, we are proud to make it known that we gave our Editor a facelift. We didn't only change the look and feel but also restructured to simplifya its use. Get more work done with less clicks. A preview: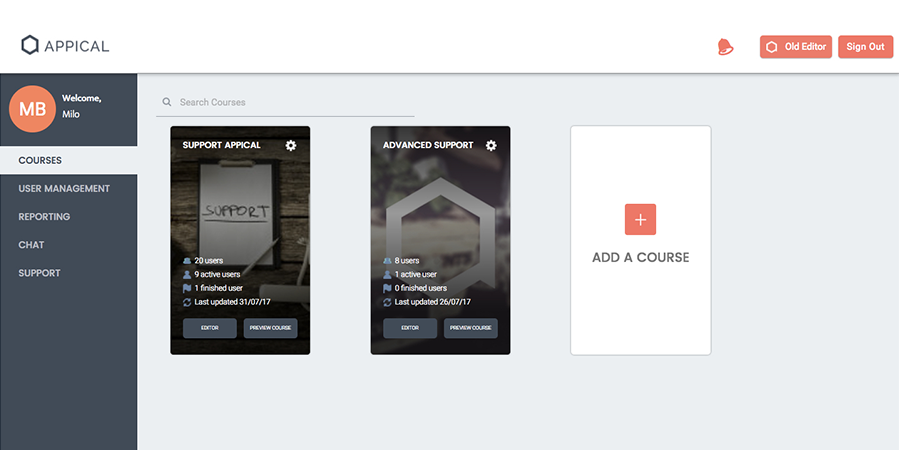 New Feature #2 - Chat
The chat feature that was already available for the AppicalNow Player has been implemented in AppicalNow Editor too. This makes it possible for administrators, editors and user managers to contact their new colleagues directly through the chat. New colleagues can contact admins, editors and user managers too of course.
New Feature #3 - Order pages by using Drag & Drop
Not satisfied with the page order of a chapter? No problem! We made it even easier to change the order of pages. Click on the page that you want to move, drag it to the right position and release the left mouse button. Piece of cake!
New Feature #4 - New password policy
We received lots of feedback on our strict password policy that we introduced earlier this year. Because of this, we have decided to ease the rules. From now on, a password must consist out of 8 characters, including at least 1 capital and 1 number. If this is insufficient for customers, they can choose for a stricter password policy that consists of 12 characters including at least 1 uppercase letter, 1 number and 1 special character.
New Feature #5 - Manager App soon available for Android
After releasing the iPhone version earlier this year, our Manager App will be available for Android devices in mid-August. The Manager App makes it easy to to track the progress of your new hires. As a manager you will always be up-to-date with their progress and scores in a single glance. Furthermore the Manager App gives you the ability to inspire or compliment them with the progress they made in a more personal way.
New Feature #6 - Contextual Content
Our newest feature "Contextual Content' makes it possible to show a new hire solely the content that is of interest to them. Do you have specific content for a country, office or job profile? You can offer new hires a fitting experience with this feature, without creating separate courses. A custom-built onboarding that is still scalable!
How does that work? You can create a global course and create a tag per story or chapter. Whether a new hire will see this story or chapter, depends on the tags that are added to his or her profile. We expect to add this feature to the Editor at the end of August.
Curious about the next new features? End of August there will be a new blog. Stay tuned in our Appical Update! Do you have questions about the new features? You can send me an email anytime.