Welcome back to the "Feature of the month" blog post series. After a short summer break, we are excited to continue to spotlight and present selected features we offer within the Appical platform.
This month, we are thrilled to highlight the glossary functionality! In this blog we will explain to you how to use it, why it is an important tool in the onboarding process and how teaching your new hires about the company jargon helps them increase their productivity.
Introducing the glossary: Immerse new employees quickly in your company jargon
The better your organisation sets their new hires up for success by starting the employee journey with an engaging pre- and onboarding experience, the faster your new talent will be able to reach their full potential.
At Appical, we love to start the onboarding process ahead of a new hires' first working day by giving them access to a dedicated pre boarding program. In that phase of the employee journey, it is important for new hires to start directly engaging with your company. How? By connecting with the future colleagues, getting up to speed on important information through gamification or videos and getting a better feel for your company's culture by absorbing the company jargon in the glossary function.
What is a glossary?
A glossary is a list of terms and expressions that represent your company or brand. By giving new hires access to the glossary in the early stages of the employee journey you provide and strengthen the shared understanding of terminology that is used across all business units. OKR's, KPIs, or NPS might be universally used, but once you get further down into LWOP/ PTO or NEO - abbreviations might have different meanings depending on the company and therefore need to be communicated concretely.
*Although beware! While glossaries, by nature, are a list of terminology, it is not a "set and forget" type of feature. As your companies, brands, products and services evolve, so does your glossary. *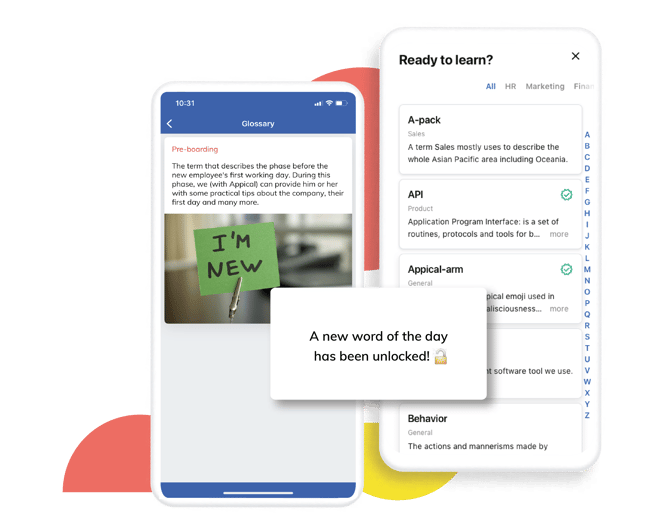 How to use the glossary functionality
Depending on the nature of your organization, the glossary can be terminology based, with an aim to facilitate the understanding of important industry terms or vocabulary or slang focused, directed at improving the communication of your new joiners with other colleagues from the start. This can involve abbreviations, departments or difficult terms, but the occasional joke also gives the new hire insight into the company culture. For example, we added the term 'girlfriend' since one of our colleagues loves to use that word.
In the Appical platform, the glossary takes a very accessible place 1 click away from the welcome screen of your new hires. With options to add and customise pictures and texts, it empowers your administrators to utilise the feature based on what is essential for your organisation to highlight while your new hires take their first steps in your company.
So no matter in what way you and your organisation is utilising the glossary functionality, giving your new hires a self-serve resource that allows them to immerse in your company-specific terminology as part of their pre and onboarding process directly enhances the training experience and ensures they will be able to reach their full potential faster.