Welcome to the "Feature of the month" blog post. Kickstarting this new series in 2021, we want to spotlight and present selected features we offer within the Appical platform. Every month, we will present specific functions that our users rave about or we find especially interesting to put on center stage.
This blog post is officially the first one in the series, but be sure to also check the blogs about digitizing the onboarding process with integrations as well as the guide on automating the onboarding experience with workflows.
Introducing data dashboards: comfortably make better decisions with insights into the adoption, evaluation and engagement of your new hires
Mis-hires are costly. Particularly when 52% of departing employees state that their manager or organisation could have done something to prevent them from leaving the job, paying up to double the employee's annual salary to find a replacement seems like an avoidable cost. (Gallup, 2019)
At Appical we believe in the power of data-driven onboarding processes. That is why we think it is critical for decision makers to not miss key employee insights gathered during the onboarding experience that could potentially prevent costly mis-hires from happening.
Particularly when new hires have to complete an average of 50+ activities during their onboarding journey, a missing or disorganised overview over the onboarding data leads to many organisations neglecting the feedback of their onboardees or potentially overlooking early red flags.
Data dashboards are the ideal tool to provide HR administrators with the necessary comprehensive overview. Empowering decision makers to comfortably assess their new hires' adoption, engagement, evaluation and essay responses at one glance, helps detect early points of improvement. This not only helps to prevent mis-hires in time, but also generates important feedback on the onboarding process, something that directly boosts your employee engagement and retention!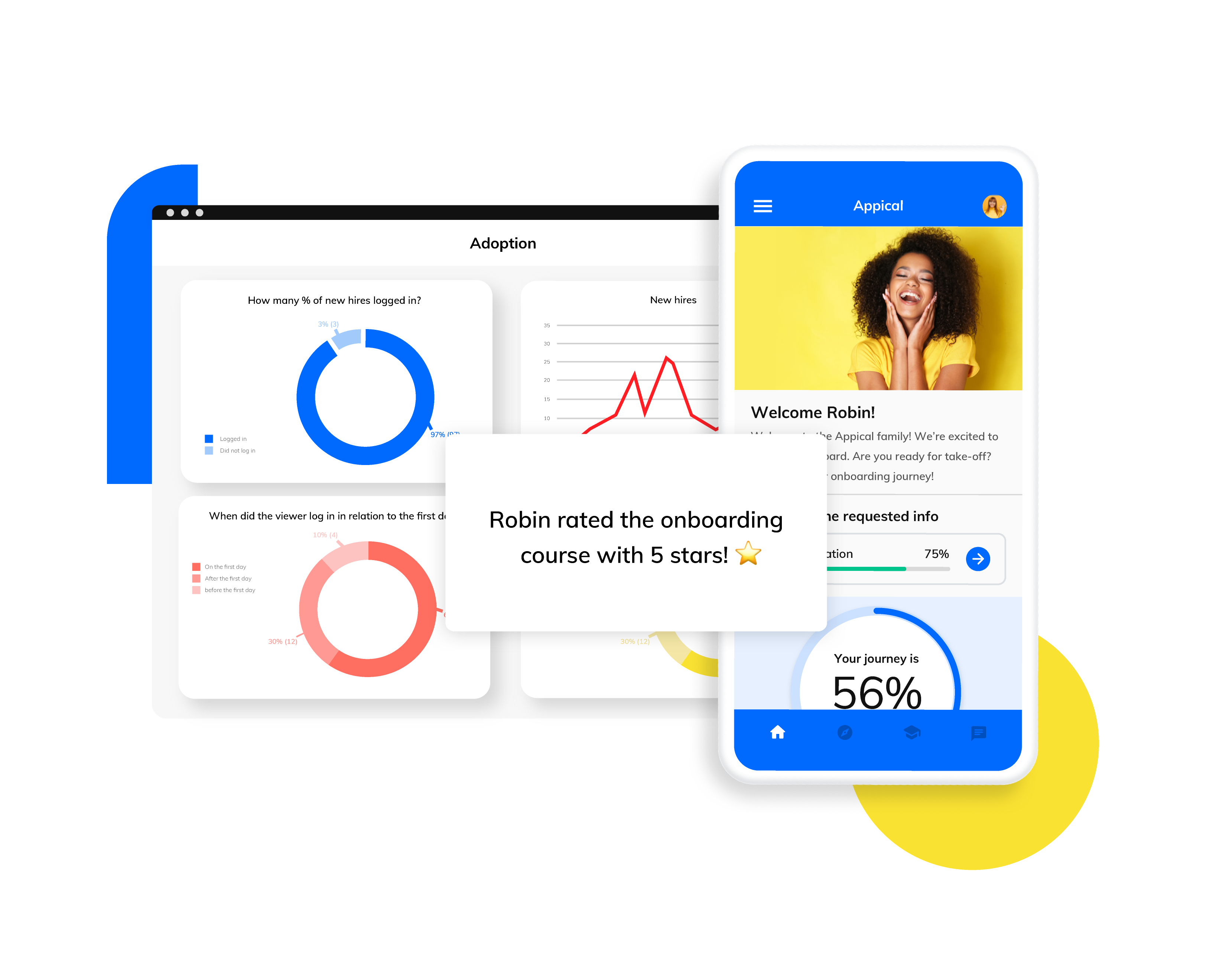 What makes data dashboards the perfect tool for data-driven decision making?
When it comes to overseeing the analytics related to onboarding, 4 main components are essential to look at:
1. Adoption
Next to displaying the total number of new hires that have been onboarded, the adoption tool grants an overview of the new hires that have logged in, at what time they logged in and when they logged in in relation to their first day. This helps decision makers to make a valuable assessment about the motivation, dedication and enthusiasm of the new employees.
2. Engagement
The Engagement report details the progress of the new hire's onboarding program. Next to overseeing the average progress of the whole onboarding journey per new hire, decision makers can see how the individual chapters of their onboarding process compare. With information about the progress, time spent and amount of visits per chapter, it is easy to have a finger on the pulse of the new employees - improving ill-performing parts if necessary.

3. Evaluation
The Evaluation tab reports a summary of all Likert scale questions answered by the new hires over the course of their onboarding journey. The specific scores per question give HR administrators direct feedback about the satisfaction or expectations of their new employees. This allows them to easily see what aspects of the onboarding experience are underperforming compared to others and therefore need improvement. Lastly, the overall evaluation of the course compiles the average score of all individual Likert scale questions and can be seen as a direct reflection of the new hires' assessment. From our experience, a new hire that rates their onboarding with 5/5 stars is more than 80% more likely to stay with the company than a colleague who felt left out from the start.
4. Essay Feed
Nothing helps to improve the onboarding journey more than direct feedback by those who just experienced it. In the essay feed, an overview of all open-ended essay answers by your new employees is compiled. Interested to know the answers from a specific department? Effortlessly filter the overview by groups to only see the insights relevant to you!
All in all, data dashboards empower your HR decision makers with the comprehensive analytical tool to make better decisions about your new hires as well as help to find aspects to improve in your onboarding process. Curious to learn more about data dashboards? Talk to us today!