Like almost every company, at Appical we closed our office and sent employees home for weeks. It is now clear that 'returning to the old normal' is out of the question. Social distancing is the 'new normal' for the foreseeable future. Now that employees will be able to return to their workplaces step-by-step, we faced the challenge to come up with a reboarding plan at Appical.
The situation
As an HR tech company, we are privileged with flexible working hours and the possibilities to work remotely now and then, way before COVID-19 kicked in. Working fully remotely, therefore, wasn't a tough challenge. Although remote working has been the standard for the last months, every now and then our employees wanted to work from the office. Sometimes for better options for presentation and demo meetings, but also to alternate the boring improvised home office and to escape the home-care obligations. Soon after the lockdown ended we started opening our office under strict conditions.
The Appical Reboarding plan
Now that the strict lockdown has come to an end we worked out a reboarding plan. We found out that some employees feel very comfortable about the situation and feel that there are no restrictions needed anymore. On the other hand, there are a lot of employees that don't feel comfortable yet by coming back to the office (they might need to travel by public transport or are looking after their family members, etc.). And some of us completely embraced the 'work from home' policy. After weeks of strict lockdown, we had to find a way to deal with the 'new normal' together.
We discussed all the important regulations provided by our national authorities with our team leads
How to guarantee the social distancing


How to make sure that colleagues stay home when they feel sick

How to deal with hygienics
We implemented our safety guidelines at the workplace and shared the safety policy with our employees
We set a maximum for the number of employees that are allowed to work from the office
We marked walking directions

We marked desks that are currently unavailable, changed sitting arrangements, and provided the renewed workplace map

We placed signings (please do not enter, wait behind the line, etc.)
We limited access for meeting rooms, kitchen, elevator, etc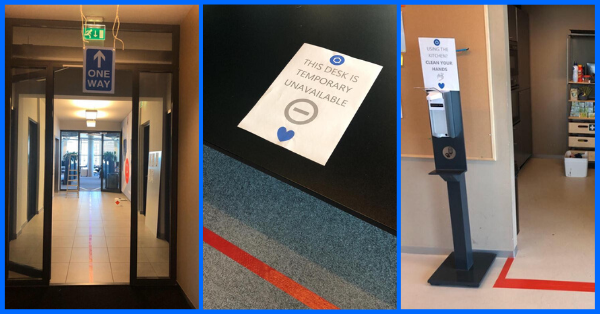 We decided to use our own Onboarding platform to inform and interact with our employees on all the reboarding topics. That's how we found out that our Appical platform is very useful for the reboarding activities and decided to support our customers to start their own reboarding process.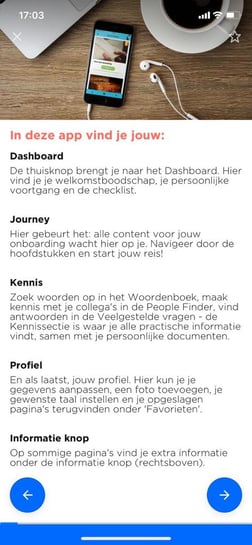 The first two weeks after reopening the office, we experimented with a capped amount of employees (30% of our 'new' capacity). Based on the experiences, we gradually improved Safety protocols over time.
After those weeks we discussed with all the teams fixed working days from the office, based on the maximized office capacity.

To welcome all our employees back to the office we gave them a 'welcome back at the office' gift with chocolates.
Learnings
Every human being experienced the COVID-19 pandemic completely differently. Some of us feel that we don't need restrictions (anymore) and some of us feel very uncomfortable with the idea of ending the restrictions. The workplace should be a safe and comfortable place to work for every single person in your company. Make sure all the employees respect and live by the rules. Give time and space for those employees who are not comfortable yet coming back to the office yet.
Repeatedly inform your employees about the measures that are made or are changed.
It's important to register who comes in and out of the office on which date. So if any outbreak occurs you know who needs to stay home in quarantine that was in contact with the person infected that day.
Make sure your employees feel comfortable by providing feedback on the restrictions and speak up when others don't follow the internal guidelines.
Keep in mind that some colleagues fully embraced the remote working policy. It might need some extra effort to engage these colleagues to come back to the office.
There is a lot more to reboarding that we could cover in this blog. That's why we created this
reboarding checklist: Getting back to work.
To get your reboarding program organized and more focused.