Hooray! Your new employee (let's call him* Robin) starts at your company soon. Exciting times, with high mutual expectations. No wonder you are mesmerizing about how to get your new talent up to speed as quickly as possible.
Your new employee only wants two things in this first period on the new job: getting to know the company culture and the feeling he is contributing. As an onboarding consultant, I see that it's not always clear for customers how to get a new employee operational quickly. Of course, this is not the same in every position either. But after crafting many onboarding experiences with a lot of different customers, I see many similarities. In this blog, I share three steps to guide your new hires to productivity.
Step 1: Get your logistics right
The first step is facility management. All logistics must be in order before Robin embarks on his new adventure. Laptop, access to all software, office key, access pass, you name it. If arranged on or after his first day, you prevent your new employee from doing his job.
Step 2: Grow in steps
The second step in being able to contribute is knowing when a new employee is contributing. Robin wants to know when he is doing his job well. You have to explain that to him. That might sound simple but is not. You can roughly divide this into two elements: getting to know the work processes and building an internal network.
Processes and tools
I am going to be strict here: the "sink or swim" method is commonly used, but not so effective. Most people feel lost in their first month. They actually want to be taken by the hand and gain knowledge and experience while playing around.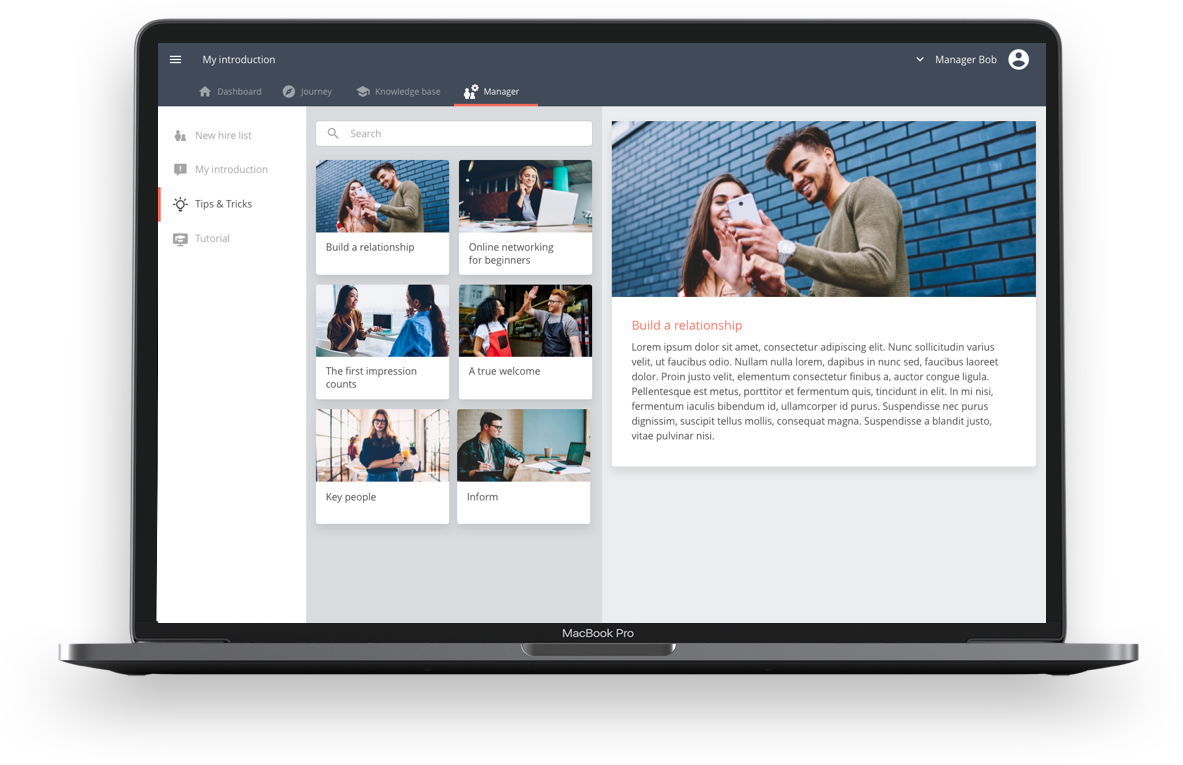 Structure Robins onboarding by providing him with the right content at the right time, preventing information overload. Start by analyzing processes and associated tooling, divide them into learning chunks, teaching your new employees the right knowledge step by step. In this way, you make sure Robin has a smooth landing.
Build an internal network
Making connections is essential for every new employee. Have you identified which stakeholders are vital to Robin? Whom does he need to do his job well? And how should he communicate with these stakeholders? You can introduce Robin to the stakeholders in the first phase of his onboarding program. In the second phase, Robin can learn how the work of all those stakeholders is interconnected and what part he is playing. In a third phase, you teach him how colleagues and teams work together. In this way, Robin not only builds up an internal network in stages, but he also gets to know the communication norms within the organization, an essential part of getting to know the culture.
Assigning an onboarding buddy adds value during the onboarding process as well. The buddy provides context, safety and guidance. Another good tip is connecting your new hires with their manager before the first day at work. In the Appical onboarding platform, you can use the manager toolkit for both buddies and managers. You can send buddies or managers direct messages and track new hire progress with the swipe of a thumb.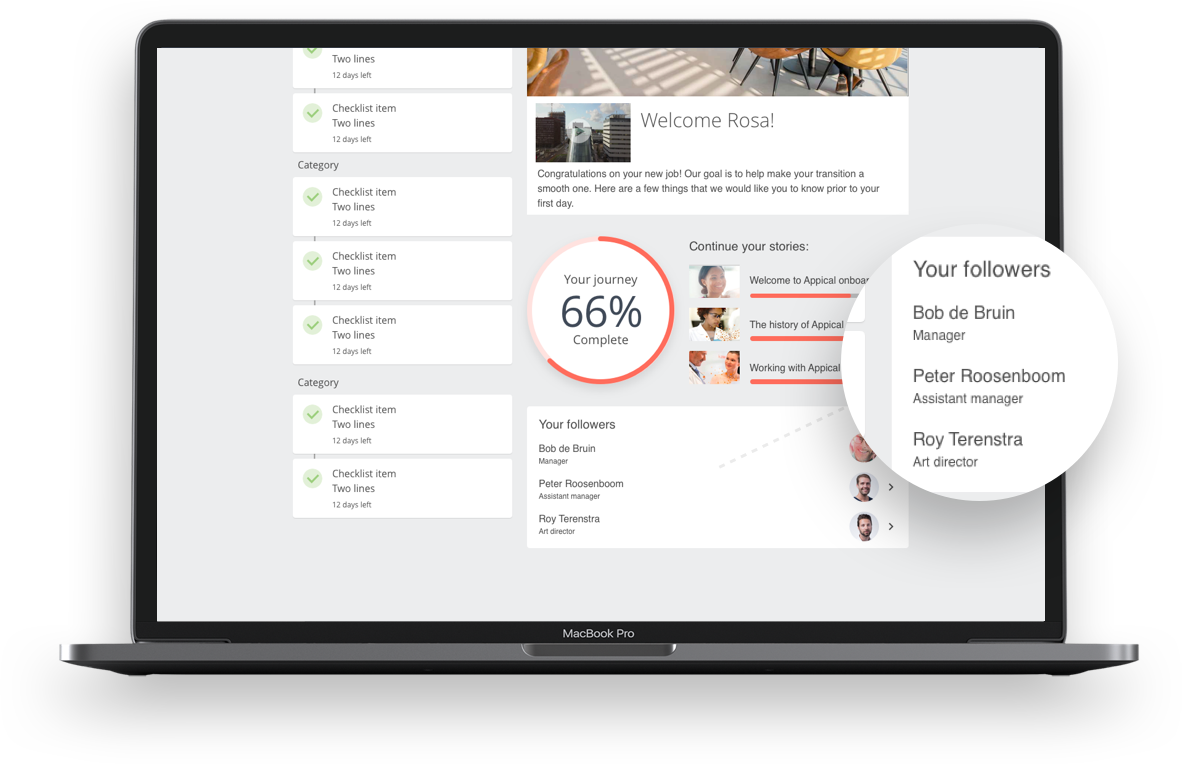 Appical - Manager Toolkit
Step 3: Check-in
Now that you divided learning chunks per onboarding phase, you can focus on Robin's development. Set goals and monitor his progress and check-in every week. This way, you can evaluate how your new employee is doing halfway through the probationary period and really have something to discuss (and probably celebrate) during his end-of-probation interview.
Bonus: add fun elements
Last but not least; think about the way you transfer knowledge. How does the new hire perceive it?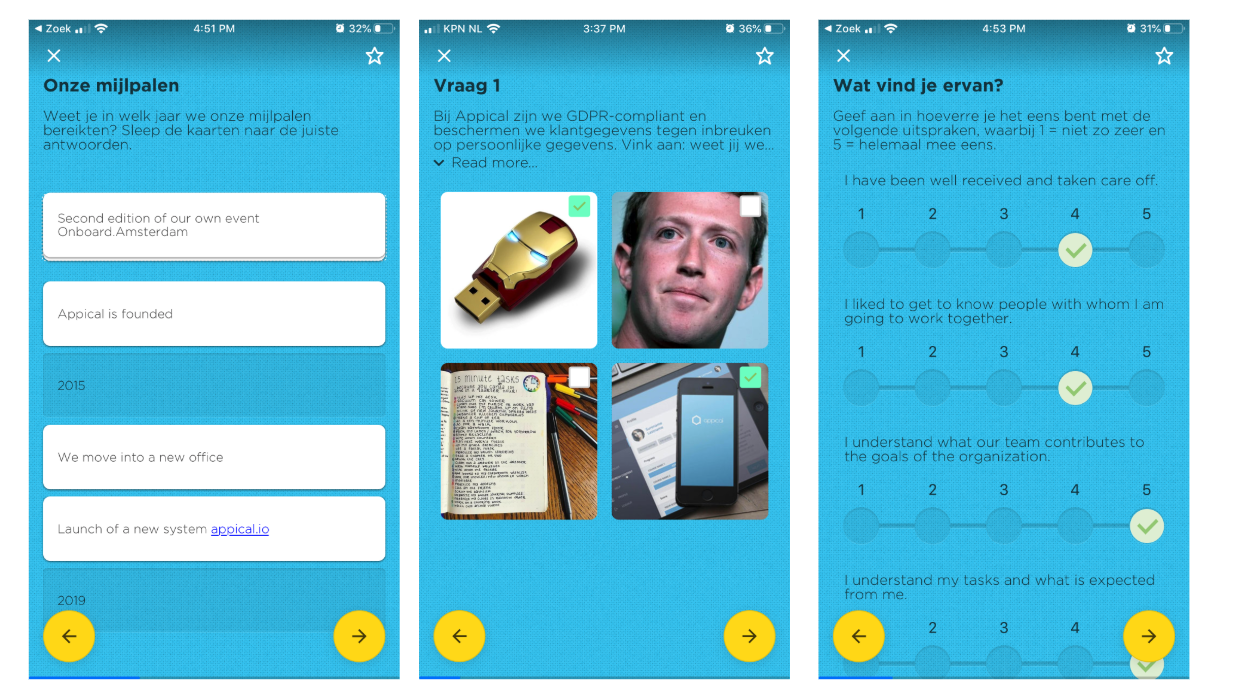 Interactive elements in the onboarding journey
You can quickly improve this by adding interactive elements. Evaluate your onboarding program continuously and improve step by step.
A quick overview:
Start with the logistics. What arrangements need to be made and when?

Get a clear overview of processes and tools Robin should get to know.

Cut these processes into smaller learning chunks

Think about the different touchpoints in your onboarding journey and how you can make them more interactive

Check-in regularly

Create KPI's, when is your onboarding successful
That's it — my three steps to faster productivity. In my next blog, I'll dive into the different roles in onboarding. What do new hires expect from their managers, buddies or peers during the onboarding process?
Need help? Do you have feedback? Please drop me a line!
* 'he'or 'him' equals 'she' or 'her'.